So Sandra over at Sawdust and Paperscraps is hosting a Strut Your Safety Gear link party.  We are supposed write a post that shows how we look as we DIY. I thought I would join the fun–even though I don't like to admit what I look like when I am DIYing.  When I go to pick up my kids at school, it's never "Do I have sawdust in my hair?".  It is HOW MUCH sawdust is in there, and will they know it is sawdust or think I've got dandruff???
So here goes:
What??!!  Doesn't everyone wear their 1988 junior prom dress when they are building?  Actually this is what I wear to pick up my kids from school.  Keeps everyone from looking at the sawdust in my hair.
Just kidding.
This is the real deal.
Yes, I have actually worn this to pick up my kids.  But I didn't dare leave the car.  My motto: Who needs a rag handy when you can just use your pants?
And I'll admit right now, I don't usually wear the mask.  As I was hacking until I gagged during a sanding session yesterday, it occurred to me that a good respirator wouldn't be a bad idea.  It is one of the items I will purchase if I win the Amazon gift card from Sandra for this post 🙂
I will also be getting the anti-fog goggles.  As I was breathing with the mask on, I could barely see.  I thought it would be funny to write "HI" in the lenses for the picture, but it would clear up when I tried to get my finger in there to write it.  Oh the things I do to amuse myself…
Check out the other entries!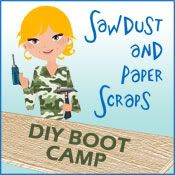 Gonna reveal the laundry room cabinet and hutch as soon as I can write up the post!  It turned out so much better than I ever imagined–I LOVE IT!!!!